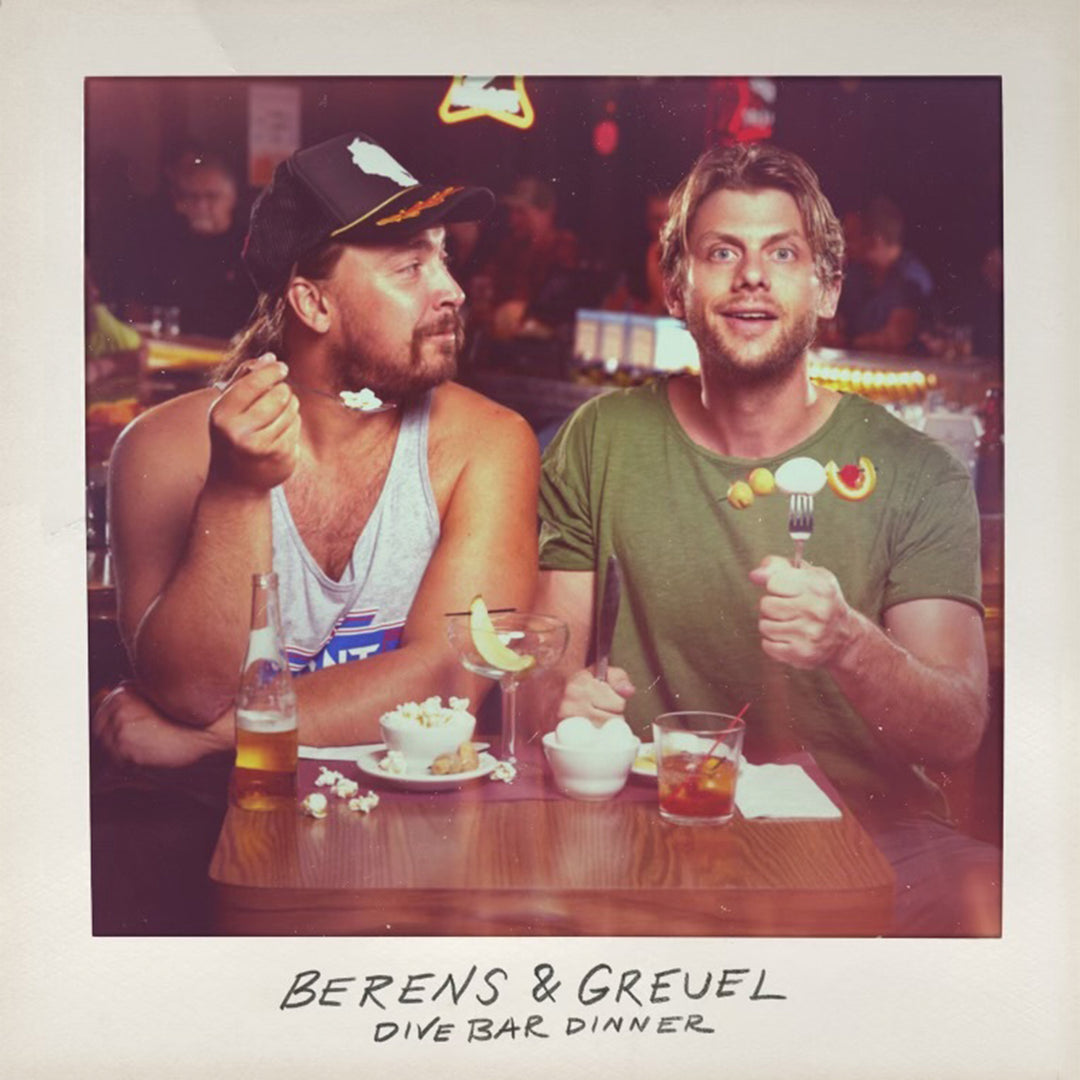 Berens & Greuel "Dive Bar Dinner" Vinyl Album
---
---
Featuring original songs co-written by Berens & Greuel, Dive Bar Dinner covers a wide range of topics from Old Fashioned drinks, to the Midwest Goodbye, to state fairs, to the Michigan"s and Wisconsin's conflicting claims to the title "Mitten State". The album leans in the direction of country, rock n' roll, and folk music and features some of the Midwest's most talented instrumentalists. While certainly rooted in a comedic approach, some of the songs offer a more sentimental and musical side of the comedian Charlie Berens.

"Charlie never ceases to amaze me in that he's constantly creating. When I hang out with the guy, whether fishing on a river, trouncing through some forest, or hanging at a tavern, he's always got some kind of goofy or thoughtful observation. It's been a fun ride to see some of those things come to life in music. Some of the songs make me laugh out loud, others kind of tug on the ol' heart strings, and some make you wanna dance around a country dancehall or corner dive bar. It's just a whole lot of fun.", says Adam Greuel.

Charlie Berens adds, "I really love this album, and I'm not just saying that because we made it. It's got stuff to make you smile, make you think, and make you drink. And for those of you wondering "does that guy know how to make music?", the answer is…kinda. But Adam definitely does. He's one of the best musicians that I know and his patience as a producer is unmatched. Teresa Marie Hardy of the People Brothers Band and Ann Marie Taepke of The Holderness Family make some really fun and lively guest spots, and the band that Adam brought together blew me away with their arrangements."

The backing band is an all-star "supergroup" of Midwestern musicians that features Kenny Leiser on fiddle and vocals(Joseph Huber Band, Wheelhouse), Andrew Koenig on electric guitar (Long Mama, Buffalo Gospel), Maxiphone Saxophone (People Brothers Band, Heatbox), Kevin Rowe on bass (Fat Maw Rooney, Barley Jacks), and Nick Lang on drums (Long Mama, Buffalo Gospel). The music was mostly recorded at the iconic Pachyderm Studios in Cannon Falls, MN, known for being a spot where Nirvana, Reina del Cid, Andrew Bird, Trampled By Turtles have recorded in the past.

Format + Color: Single Black Vinyl
Record Label: Ufda Records
Cover Art Designed By: Ryan Lynch

Tracklisting:

SIDE A:
Beer Me, Beer You
Keep Er' Movin'
Wild Night
Gangsters Vacation
Mitten State
Get Where You're Going

SIDE B:
Midwest Goodbye
Milwaukee Bartender
Old Fashioned Life
State Fair
Twister

Fulfilled by Ambient Inks and shipped using compostable and/or recyclable packaging. To learn more about our sustainability standards and practices, please visit this link.
Fulfilled by Ambient Inks and shipped using compostable and/or recyclable packaging.